NBFC Software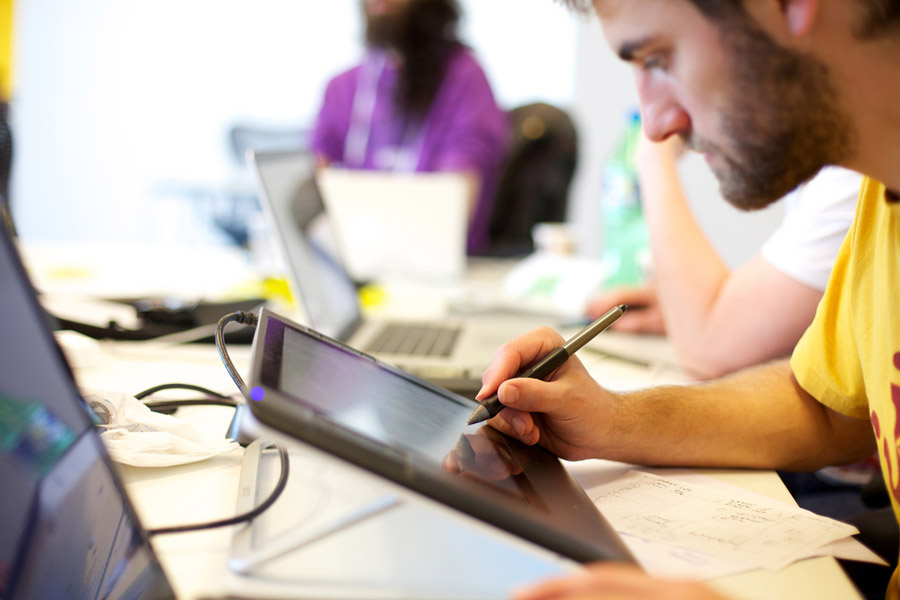 NBFC Software Called "Loan Blaster" by Cyrus:-
Cyrus is providing a best in class NBFC Loan Management software to manage all the Loan Related operations those are required to run an NBFC (Non Banking financial Company), Our Brand as Loan Blaster (A Loan Management Software).

Loan Blaster is a software product exclusively designed and developed for all types of Loans. Its fully Real time Web-based application for Multi state, Multi branch, Multi Loan Companies. It can be customized according to client's requirement.
Our Loan Software application designed for NBFC and Microfinance companies, the software has been developer from scratch to cover the entire working of a Company/Firm involved in Hire Purchase and related Business Our focus being on the management and control of business apart from keeping accounts, Our Development team has its roots in the finance industry and an experience of over 4+ years .

Cyrus is providing fully secured web based Loan Management Software used all types of Loans Users can easily create a Paperless Loan File and process further for Loan Approval online We covers the entire life cycle of a loan Management right Like: Loan Product definition, File Processing and documentation, Loan Amount Calculation, Billing, processing of Loan Accounts, foreclosure, and termination Cyrus provides document management solutions for all types of Loan Companies. .

Cyrus is a leading NBFC's software provider in India. Our comprehensive software application designed for NBFCs and Micro Finance companies, the software has been developed from scratch to cover the entire working of a Company/Firm involved in Hire Purchase and Related Business. Our focus being on the management and control of business apart from keeping accounts.

Check Out Our Loan Software Today By Sending Us The Free Demo Request

Apart from loans, banks earn good amount of profit through its deposit schemes like RD, FD and MIS. But, in the rural areas people likes to invest small amount of money in different schemes which increases the complexity of managing data. But, when you use a powerful software, it manages all these issues brilliantly with full accuracy. It increases the trustworthiness of the bank that is highly valuable for any business.RD FD Software Free Demo
In General Features:
Web Technology: Microsoft .Net 4.0 as front End, and MS SQL Server 2012 as Back End.
Multi – State- Can manage all the states and respective branches.
Multi – Operator: can create any number of operators to work on software and you can provide rights accordingly
Operator Privileges: User Privileges are specific access and ability permissions that can be assigned to users.
Multi – Agent and Customers: "N" number of Agents and customer can work on this this is already tested with millions of entries.
User Friendly Software: Easy to operate, Professional employees are not required to operate the software.
Data Security: Project works within a secured architecture and sense of security like captcha, 3D verification, OTP (One Time password), Separate Transaction Pin in this software is adding major advantage, and we also manage the important code using higher level encryption.
Application Security: Using IP and MAC Address based security to run the system.
Verification Process: System for FI verification, document verification, and 4 level verify system
Automation: Automatically Interest Calculation for deposit and Loans.
Audit Reports: Reports for Audit Purpose.
Document Management: Can maintain Members and Staff documents like Loan Applications, Membership form etc.
Accounting: When software will make any transaction entry then this will automatically make effect on Day book, Ledger, Balance Sheet, Trial Balance Reports.
On / Off System: You can enable and disable the features in software as per your needs like Forms, Transactions, Deposits, Branch Login, Website, any registration Etc.
What Makes An NBFC Software Useful?
Well, today's technology has become much advanced and it can guide you in every step to create robust strategy and track your performance. Here are the top 10 features of a modern NBFC software. Just check the list.

Loan Scheme-

As loan is the most vital product in any bank, today's Online NBFC software comes with an integrated loan scheme generator. You can create several custom schemes as per your strategy. You can even update and delete any scheme as per your requirement.

Loan Management-

Starting from receiving the loan application for checking the eligibility, checking documents, setting the loan amount, disbursement, collection of EMI and so on can be very error prone and may affect your profit directly. Generally, every bank without online NBFC software faces great loss just because they aren't fully equipped with modern tools. Any reputed financial software will offer you great convenience to manage your loans from start to end.

EMI Calculation- It's a great challenge for any marketing person of a bank to offer a loan scheme to a person with the most suitable EMI option. But, with today's online NBFC software, it becomes very easy, as all these software comes with an instant EMI calculator. Now you can offer loans to your customer with the exact EMI amount that they can afford.

Due Date Alert-

Any reputed bank deals with hundreds of customers and obviously all have different loan EMI amount with different due dates. If you miss to alert your customers regarding the due date, there'll be a great chance that the customer won't be able to refund the loan on time. But, with automated due date alert you can get control over this issue very easily. The NBFC software will fire automated SMS and emails to the customer on the predefined date to remind him to deposit the EMI.

Access to Account-

When you use an online software, you offer better convenience to your customers to access their account without visiting the bank. It offers them a great satisfaction and a feeling of security. They can check their account status, due date of EMI, and so on very easily from their home.